One of my very modest goals in finding an inexpensive, usable Android tablet is replacing my cell phone with an open source SIP client. I spend enough of my time near WiFi hotspots that an Android gadget could do double-duty as a browser-email-ebook as well as a phone. And the chance to free myself from Verizon's tentacles with WiFi telephony has been tempting me for a long time.
With the Yixin 7200 MID I finally had the right platform. Could I locate a functioning SIP client in the Android Market, Google's answer to the App Store?
So I walked the virtual aisles of the Market and pulled a few SIP clients off the shelves for testing.
I did discover a working client and learned that the quality of Android freeware is, charitably, very uneven.
Open source Linphone couldn't register with my OnSIP proxy server. NetDial SIP Phone seemed to randomly crash. And these two SIP apps had reasonable user reviews.
In the SIP section of the Google store, quality is a relative thing. Many of the apps I scanned through had "force closes all the time" or "worked once" scattered through their user comment stream.
By the way, AndroidPit is a website that lets you browse the Market and read user feedback. It was easier for me to do research with AndroidPit on a laptop than in my cramped tablet environment.
I decided for now to go with CSipSimple, another open source project I came across. The thing was able to register with my proxy server, which was a stumbling block with other SIP apps. And it passed basic tests: successfully connecting to other extensions in my OnSIP virtual PBX environment, and I was able to call outside numbers.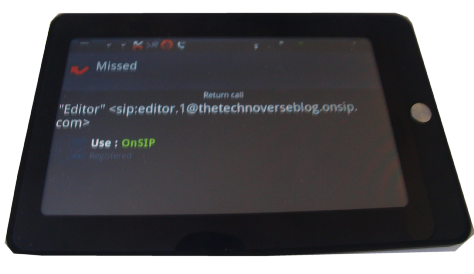 I declared a temporary victory with CSipSimple.
That's not to say CSimSimple is perfect. I've already experienced  one disheartening "force close."
So I'll continue to test this in the field, while keeping my eyes open to other SIP softphone options.
Related articles