Junction Networks is a hosted PBX app provider that lets startups and small businesses pull a VoIP phone systems out of thin air or, more accurately, out of the cloud.  The company was founded in 2004, and open standards were practically written into their constitution.  In other words, they support SIP.
Their OnSIP hosted PBX service has a maturity level that will appeal to businesses—tech and otherwise—that want a phone system and not a collection of APIs with some sample apps.
I spent a  morning setting up and testing auto-attendants, hunts groups, conference bridges, and voice mailboxes on my OnSIP demo system.  It worked without a hitch.   And it was rewarding, in a telecom kind of way, to  finally use my collection of free SIP softphones (X-Lite and SIP Communicator) as true office phones and bask in the glow of emulated message waiting indicator lights.
I've previously written a short-history of hosted PBX services: to summarize, they're not new. What has changed in the hosted PBX realm is support of open standards (SIP, Web services)  and much more aggressive pricing.
With OnSIP's $41.95  basic plan, you'll get public phone presence with an outside number, along with extension dialing, auto-attendant, five voice mail boxes, three hunt groups, and tech support.  A pretty sweet deal, compared to what the small business phone system world was like before the clouds rolled in: wiring, move-add-changes, expensive phones sets,wiring.
I picture a basic OnSIP system being used by one of the many three or four person startups I've come across in my coverage of the Silicon Alley Scene. (By the way, Junction has offices in NYC as well.)
So assume a scenario where the CEO is trying to nail down some inexpensive office space while two developers and a salesperson are working out of homes and apartments.
The OnSIP system can weave this virtual group together and present it as viable business to customers. Outsiders don't need to know just yet that your Flash developer is working from her kitchen table, and OnSIP won't give away the secret.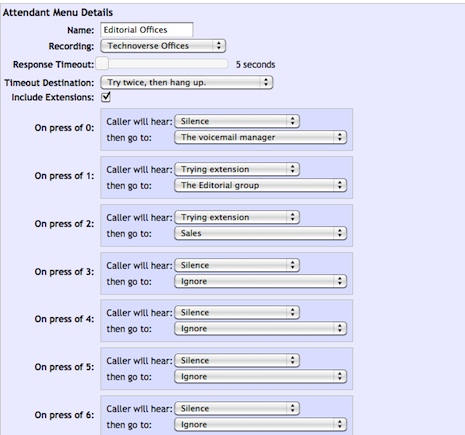 The auto-attendant ("press 1 for sales, press 2 for support") is effortless to configure, and I like that it also allows callers to directly dial an extension, if they know it.  By the way, the auto-attendant outgoing message is based on a  .WAV file that  can be recorded using standard media software.
OnSIP supports another desirable PBX feature, known in the  trade as a hunt group, which is really a poor man's ACD (automatic call distributor).  With hunt groups, OnSIP lets you map a list of separate extensions and outside phone numbers to a single group extension. When the group's virtual extension is called, OnSIP will hunt for an a non-busy line,  or it can also be configured to ring them all simultaneously.
A typical application of a  hunt group is for finding, say, an available technician from among a small support pool. Or it can be used to locate a roving salesperson—for example, first try the sales extension, then a cell phone number, and then the CEO. You get the idea.
When your company grows and you're ready for a support center, you can enable OnSIP's ACD feature. It has pretty basic rules: round robin and least busy should be enough for growing small businesses. Cost: additional $19.95 per month for five queues.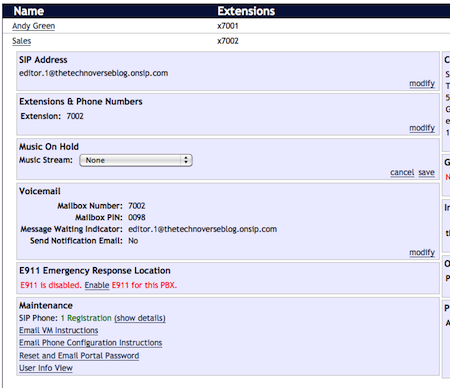 It's fair at this point to compare OnSip with Twilio's OpenVBX.  The biggest differences are OnSIP's support of SIP (Twilio doesn't) and its deeper  PBX flavor. Though to be fair, OpenVBX is strong in speech recognition.
In OnSIP, station-to-station calling using SIP is free: for geographically dispersed crews—especially those with international members—there's a potential for significant savings.
Sure, there's Skye, but with your crew linked together by OnSIP, you can peek at the SIP online statuses of your staff (out-to-lunch, on-line, do-not-disturb) to get a quick read of the state of your startup.  And four-digit extension dialing from a SIP softphone makes it far easier to initiate a connection than dealing with cell phone numbers.
PBX-style dialing, hunt groups, remote voice mail access, ACDs, and conference bridges are core phone system functions. If you're up to the challenge of searching for these types of plug-ins or designing your own than Twilio OpenVBX is for you.
If you've got other things to do, than this true cloud-based phone system will make great sense.
Related articles by Zemanta