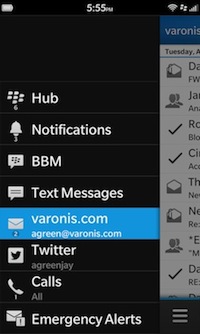 After getting a hold of a review version of the BlackBerry Z10 last week, I've been rapidly warming up to its charms. Once you get used to the Z10's gesturing, and grok the fact that the Hub–the communications command center–is really the center of its universe, then it all begins to make sense. Essentially, you're always one swipe away from phone, text, email, and social media.
I'll have more to say about the Z10 next week. While this latest gadget from the newly rebooted and rebranded RIM folks may not appeal to the general public, business-oriented persons–BlackBerry's core customers–will be quickly pulled into the Hub's orbit.
My first tasks were to configure my Exchange account, Twitter profile, and install a SIP softphone to connect with my cloud-based phone service. My configurations were all successful the first time– a minor miracle that I attribute to the spot-on keypad interface on the Z10. It also helps that its 4.2″ screen gives my large fingers a little more wiggle room. It will be hard to go back to my HTC Droid, where mistypings are the rule, not the exception.
You also definitely notice the horsepower under the hood (dual-core 1.5 GHz Snapdragon CPU) as you cruise around with the Z10: very responsive handling and instant browser pages.
For those who have found their way to this post because of the keywords SIP or VoIP, here's my short list of SIP softphones that seem to do actually work on the Z10: sip.fm.
I had less success, inexplicably, with X-lite, and Truphone seems to only support Blackberry's BBM, their own flavor of VoIP. Based on the marketing, it appears that the Z10 will support fixed mobile convergence–i.e., the ability to hand-off calls between WiFi and cellular–sometime in 2013. I'm holding my breath, but it would be neat if the carriers support this on a widespread basis.