Software startups, unlike their industrial-age grandparents, don't have to do a messy retooling of their factory to change product lines. They revamp their look-and-feel and business model after a spell of all-night coding sessions. That ain't easy either. In the case of two NYC-based startups, their recent pivots are worth a look.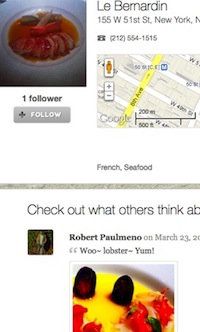 Take Taap.it The press release I recently received from them announced a "pivot from a mobile craigslist to a mobile journal". I liked Taap.it when I first saw them at TechCrunch Disrupt last May. Geo-tagged pictures of stuff taken from subscribers' iPhones are uploaded to form a peer-to-peer marketplace, hence the mobile Craigslist designation.
Its key differentiator is that the Taap.it community can do a highly-granular search for apartments, second-hand furniture, and electronica, and then experience serendipity as they discover the stuff within their own neighborhood or building.
So with their new website, as displayed on my MacBook, Taap.it seems to be more intensively photographic than I recall. Along with the marketplace, which is still very much the point of this service, they've added or rejiggered their capabilities for subscribers to comment and chat about restaurants, attractions, events, and other public spaces. That presumably is the journal part.
Dare I say they're not the only one doing this. But Taap.it has an active community of sellers, merchants, and general users, so their virtual shelves and topic areas are well-stocked with pics, and ripe for commentary.
Wanderfy is a beautifully photogenic site devoted to travel. In their 2.0 release, they seem to have morphed into a user-contributed travel recommendation service. Previously they were more dependent on content and advice from their travel-related partners–from the likes of NileGuide, Frommers, and The New York Times.
The professional content is still there, but Wanderfly is now more of a crowd-sourced operation. When you have to provide content for toute le monde, you're going to have some gaps. I guess you can say the cold-start problem is more apparent with them than with Taap.it.
My only comment for Wanderfly, as a somewhat heavy user of Web-based travel aids, is that there are excellent semi-professional resources–ex-pats with extensive local knowledge–who would make excellent contributors.
If Wanderfly made deals with these folks in key cities, such as Paris, Rome, London, Prague, etc., they could fill in significant holes.