Last night within Google's cavernous 8th Avenue offices, NY Technology Council assembled a few startups at an event to showcase "cutting-edge technology." Since this was at their home base in Manhattan, Google project managers were on hand to present as well. I almost yawned while listening to Googlers chat up Goggles and Voice Search.
I have seen and tried both of these apps before. Goggles, the image identifier and Sudoko solver, is a neat, nerdy piece of work. Voice Search may have been cool in its day, but it's a Siri wannabe at this point.
To be fair, with AI and speech rec researchers such as Johan Schalkwyk working on Voice Search, Google may have a chance to match and perhaps best Apple's voice software in certain areas.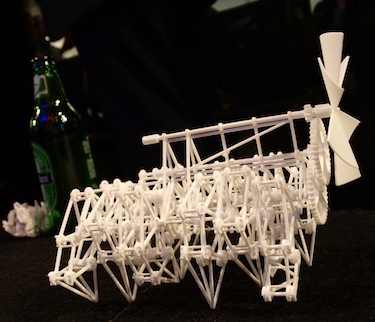 This NY Tech Council gathering, though, was stolen by a Dutch-based 3D printing company called Shapeways, which has recently opened up shop in Manhattan.
Unlike Brooklyn-based Makerbot, which sells the actual laser-blasting printer, Shapeways lets designers and artisans upload 3D files (STL, OBJ, VRML) to their cloud-based printing facility. They can then carve out ideas into metals, ceramics, glass, as well as plastic.
Shapeways tries to produce an item within 2 – 3 weeks after submission, and will accept volume orders. With its just-in-time manufacturing and low marginal costs, Shapeways encourages an artisanal design approach for niche markets.
For regular consumers, there's also an on-line marketplace of products from their large creative community. Beautiful and intricate pieces of jewelry as well as practical items, especially gadget cases, are all for sale.
And hobbyists and those looking to create a unique gift, can work with their web-based Creators to modify an existing template. Using this slick and simple app, I'm currently hacking out a custom espresso cup–for a niche market of one.
Peter Weijmarshausen, Shapeways CEO, sees his company as returning manufacturing to its pre-Industrial craft roots: "Product designers with a cool idea don't have to look for manufacturers, don't have to look for retail, don't have to look for loans to afford this manufacturing, but can send the computer product design to Shapeways and start selling it."
To get a sense of the energetic and somewhat whimsical spirit driving Shapeways, Weijmarshausen showed attendees a miniature ambulating creature designed by Dutch artist Theo Jansen. Jansen's original strandbeests are elephant-size contraptions that walk along the beach propelled by sea breezes.
The Shapeways product (see above) appears to be a scaled down version with the same level of mind-bending complexity.
For those so inclined, a Shapeway's strandbeast ($50) can be exploring your desktop.