The Consumer Electronics Association, better known for its giant show in Las Vegas, launched its first CE Week in New York City.
There are events around the city for the next few days, including CEA Research Day at the Time Warner Building (today, actually), Digital Downtown (hey, isn't that NYTM's Nate Westheimer on the speaker list?), and the CEA Line Show, where the public gets to peek at the newest multi-media gear and gadgetry.
I was in attendance yesterday and saw booth after booth of electronica and other A/V hardware–speakers, headsets, televisions, tripods, solar powered radios.
One couldn't help but notice that 3D is a major theme for the television industry.
I had a chance to watch ESPN's 3D channel, which no doubt will launch beer-soaked 3D viewing nights at sports bars everywhere.  This may be more than a fad—you really do feel like your part of the action—and I can see why football viewers especially will be attracted to this technology.
Later while I was sitting down to check a few emails, I heard "Pssst, want to see a glass-less 3D smart phone?".
I was then led into Intel's demo booth to experience a 3D image popping off a new LG phone called the Thrill. No special glasses needed. This is definitely a dangerous thing to be viewing while traversing a heavily trafficked street.
I learned that the effect is produced by something called a parallax barrier screen, which manages to send different images to each eye. There's some magic to this, and for certain consumers, especially younger ones, this could be a must-have feature in the coming year.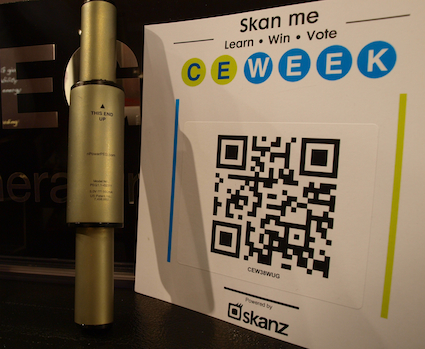 Intriguing to the hiker in me was Tremont Electric's nPower ($159.99), a personal energy generator or PEG. This tubular thing turns kinetic energy from walking into electrical—in other words, a magnet shifting in and out of a wire loop— which then charges gadgetry through a USB-type connector.
And in fact, the founder, Aaron LeMieux came up with the idea while walking the Appalachian Trail.
nPower is a hybrid solution so there's a battery involved. The motion of walking and a spring-and-weight mechanical system that is resonantly tuned to a standard pace tops off the battery and provides enough power for cell phones (but not tablets).
My couch potato longings were more than sated by VooMote One, an iPhone TV remote, that comes from a Berlin-based startup.
The app's database contains the skins of zillion of audio and video device remote controllers, which are automatically displayed and emulated on the iPhone.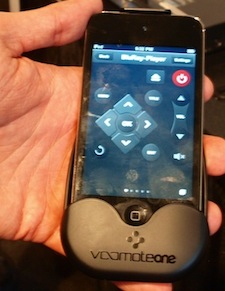 This is done without, as is usually the case, requiring the entry of a device code. Christoph Rhodus, head of product development, told me that they've worked out algorithms that can quickly figure out the make and model of a TV, DVD player, etc. from the IR signal.
The app also lets you customize a remote controller skin, say allowing you to combine functions of a TV and game controller.
The software is free, the only accessory you have to buy is the infra-red adapter shell for the iPhone, which should retail in the US for around $100.
What about a social media angle for this TV app? I had to ask, because this is a NYC tech event. Rhodus said they're working on it, but wanted to first make the TV viewing experience effortless and then add Twitter and Facebook capabilities later.
You can't go to a tech event without completely escaping social media.
I discovered Skanz's booth and its line of fashionable plastic bands printed with unique QR codes. Anyone with QR-reading smartphone can scan the pattern, and then view a profile page with personal contact information. Scanz chose CE Week to launch their fashion line, and this product comes to us from a company unsurprisingly called the QR Media Group.
QR Media's Tammy Lewis gave me a Skanbandz, which I wrapped around my wrist, and then proceeded to set up a Skanz web page with all my social networking sites, mobile phone, and email, while explaining that the business card is dead.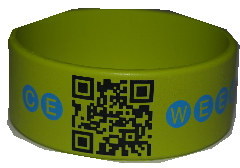 Instead we'll be wearing our business contact information and wielding smartphones to capture the QR code. I can see the convenience and modest labor saving aspects of a social interaction involving the Skanbandz.
I concluded our meeting by dropping off my old-fashioned business card, but the demo has forced me to consider putting my newly minted Skanz code identifier on a few things I always carry around—key chain, cell phone, and my Starbucks card.
Related articles