I've been to many, many trade shows and conferences over the years. TechCrunch Disrupt is the first I've attended that's devoted to startups.
You notice differences.
No security detail of marketing and PR staffers who hover around a sprawling booth that has its own zip code. No rock wall. No laser light shows. No roboticized, soulless pitches.
At Disrupt, the startups run lean: there's a table, the product, and the CEO or CTO him- or her-self enthusiastically handling the foot traffic.
That was the case with invoiceASAP. They have a tablet app for the small business marketplace that I am completely charged up about.
Paul Hoeper, invoiceASAP's CEO, walked me through a demo on his iPad. Within a few minutes, Hoeper had inputted data for some hypothetical copper piping I purchased and then sent off an email with a link to the actual invoice form. By the way, the app can also attach photos, video, audio, and geo-tagging. Neat stuff.
We've all seen UPS or FedEx workers with their proprietary, armor-plated flatscreen computing devices. Think of invoiceASAP as a sexier and thinner version of this for the rest of the business world—with an emphasis on small—who have workers in the field.
In my mind (having just gone through process of being invoiced for a kitchen renovation), this genre of tablet-based invoice and CRM apps is especially well suited for home repair and construction.
And while I'm thinking out loud, with the geo-tagging and image records, invoiceASAP should be a good fit for small- to mid-size insurance agencies.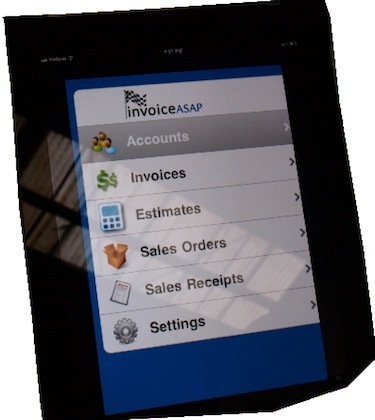 Hoeper told me that Michael Arrington thought this is a niche product. But what a niche!
It's really more than that. And I'll go on record: there will be a trade show in a few years devoted to the use of iPads for small business.
I'm a small business, and I've always found invoicing an incredible pain, and my accounting is simple. After I create the invoice, I have to manually transfer data into my Quicken records.
invoicASAP has conveniently linked up invoicing with QuickBooks Online, Intuit's cloud-based accounting, which by the way is what I really should be using.
Hoeper told me that invoiceASAP has also just launched an integration with SohoOS, the CRM-ish small business platform and xero, another online accounting service.
Essentially, an in-the-field worker will have all the customer information to fill these forms error-free, plus the ability to update the books in real-time.
I had one or two quibbles, but Hoeper had the answers. Every small business, I asked him, thinks there forms are totally unique, so how do you handle custom forms?
Hoeper said that as part of the paid service (starts at $7/month per user), invoiceASAP will offer form customizations.  The free part of their freemium model  just creates and sends invoices, but without integrations to backend accounting and CRM.
What's ahead for invoiceASAP? Hoeper said they are working on a credit-card swipe service using the amazing Square, which by the way I tried for the first time at the TechCrunch Disrupt coffee-service area.
Square lives up to the hype.
Related articles