I like the idea of Quixey.
It has the Google-like cyclops interface —a single search box— but instead of searching the web, it's looking for apps from the crowded shelves of mobile app stores.
I saw Quixey for the first time at TechCrunch Disrupt last week. I discovered this well funded company—cash from Eric Schmidt's fund— around the corner from the Startup Alley area, in the more exclusive sponsored neighborhood.
After talking with the Quixey gang, I learned that instead of searching on app descriptions alone, their software culls blogs, forums, and social media to accumulate additional descriptive content.
So how does it do?
It does a perfectly adequate job of bringing up relevant apps. It's a little unclear what it's doing under the hood—how it indexes the content—but it is not, as I first thought, pulling out any meaning or semantics from my keywords.
So when I asked for "stock apps with real-time graphs", Quixey presented a rich list of financial market apps, which to my eyes seemed to be sorted by relevance.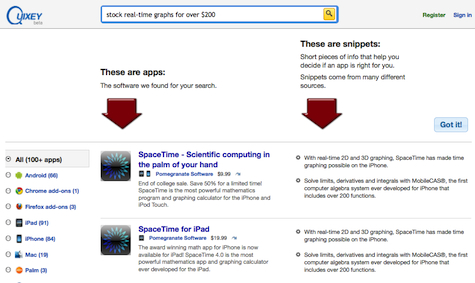 Besides showing the app, this self-described functional search tool displays "snippets" of web descriptions in which my search words appeared.
And then when I asked for stock app real-time graphs for over $300"—thinking that the really good financial apps are expensive— it treated my keywords as a disconnected "bag of words".
You can see the results to the right.
I'm being too hard on Quixey. The semantic web is still being grappled with by Google and Bing.
But you would think in the restricted search space of apps they may be able to perform better in the future.
The company that comes up with a Watson-like intelligence for discovering the right mobile app will have, to paraphrase a cliched expression, the keywords to the search kingdom.
Related articles