This was a NYC-class hack gathering: a big stage set up in the large Pier 94 hangar, enormous video screens, an enthused audience, and more demos than there were lights on Broadway.
With a long line of hackers waiting to be guided to the appropriate demo computer on the crowded dais, TechCrunch staffers I think must have consulted the New York Department of Transportation for traffic management tips.
I had my own traffic problems of a more traditional kind: a massive jam up on the West Side highway prevented me from seeing two of the eventual winners—Gilt-ii and Docracy.
No matter. I attended this Disrupt-athon with the inimitable Dr. Smartphone, who had never before witnessed a hack happening, and had very fresh eyes.  Though some of the apps left him puzzled, overall he was stunned by the amount of software talent in the NYC area.
So was I.
There were a lot of hacks that I liked, and it was good to see that a few were connected to favorite sons from New Jersey. David Kay (former organizer of NJ Mobile Meetup) was showing off mycrm, a telephony pop-up for smartphones. And previous hackNY hackathon winner Ian Jennings, a Rutgers student, introduced us all to b00st, a real-time social news site.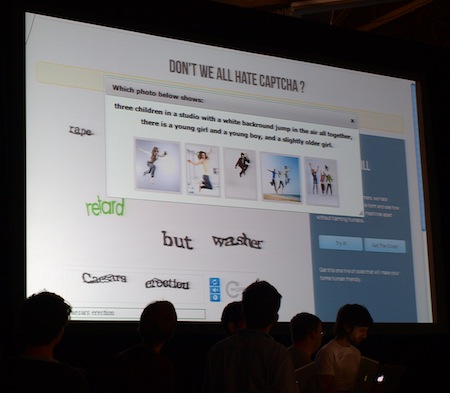 I  saw a captcha replacement, which doesn't force you to decrypt unreadable text. It—sorry I don't have the name of this hack, yet— cleverly describes an object in a photo and then asks you to pick among several graphics.
I assume the description writing task has been crowdsourced.  Simple, but clever.
I was very excited by CrowdStory, which is based on the premise that the best children's stories are told by children. It's a collaborative story creation app that lets tots (and adults) build upon stories: think of it is as software that speeds up the old-fashioned multi-generation fairy tale accretion process.
And there was also an app called "pullplanes", which lets you quickly generate those quadrant graphs. I just liked the idea that say, ahem, a blogger can embed a cut-through-the-verbiage visualization of complex data.
By the way, I did get my tickets.
So I will be in NYC tomorrow for a full day of Disrupt.
Related articles