I took a quick peek at the Internet Week NY headquarters on 18th street in Manhattan while on the way to New York Tech Meetup's "action packed" June event. I had just enough time to see some of the booths, grok the social media aspects of the planned discussion topics, and take a picture of Brooklyn-based MakerBot Industries' CupCake CNC machine (also known as a 3-D printer) before I left for the Skirball Center.
My take away from IWNY: engaged communities swarming around focused content and, thanks to startups like MakerBot, custom hardware will rule the future. And it's happening here in NYC!
Then I went to the NYTM and watched a man smash an iPad with a sledge hammer.
That was more literal action than I had bargained for. But Scott Heiferman, co-founder of Meetup.com and the iPad destroyer, was making a valid point.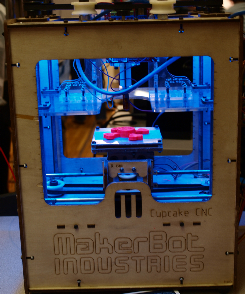 Social networking technology creates virtual communities that would have been near impossible to coalesce pre-Internet. However, to take action (on open government, on Wall Street reform,etc.), you do need to eventually get off the Internet, "unvirtualize," and engage in the same room with others.
Heiferman showed off Meetups Everywhere, an enhancement to the Meetup model that allows anyone to launch gatherings around a specific topic at multiple locations. A line of HTML displays a Meetup call to action on a web page, potentially triggering a worldwide discussion on a subject you picked. It is heady stuff, but ultimately a force for good.
Publications, such as Huffington Post, are using Meetups Everywhere to create communities around a news story (say, the Gulf oil flood). It's a Journalism 2.0 idea that may propel me into doing a meetup on … Net Neutrality. We'll see.
Beside broken iPads and unvirtualized communities, there were some great demos—too many for me to wedge into this post.   The two  I really liked involved  virtual community building.
Kyle Bragger's Forrst is a place where developers and designers can post snippets of codes or bits of Web design and get feedback in a nurturing environment while hanging out in real-time. Interestingly, this is invite-only site, and there's an extensive application form that has to be submitted. According to Bragger, the community currently has 2700 members, with a backlog of 10,000.  It's a very focused group— a pre-screened crowd—where you can get answers and encouragement. (FYI: he's still working out the business model.)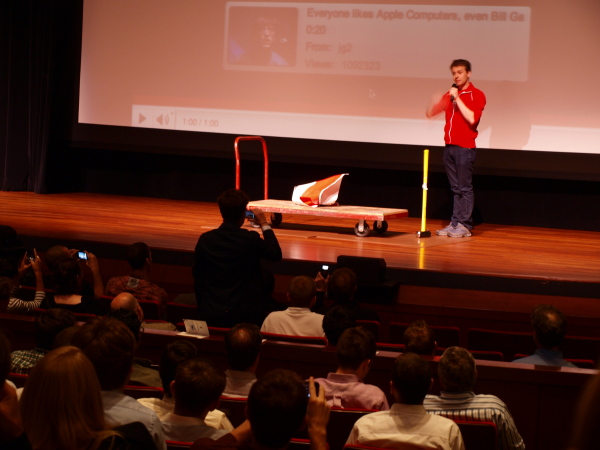 I also liked Fare/Share, which is a taxi sharing service. Only in Manhattan can you even consider community building around getting a cab. Like another taxi-based company, CabSense, they crunched the Taxi and Limousine Commission's GPS dataset to discover that cab sharing would have a wide audience.
Fair/Share is a  web app that can run on Blackberry, Android, and soon iPhone. You submit your location, destination, gender, and an identify clothing item (or headshot), and it then finds a match. You can, if you'd like, have  Fare/Share do the math and come up with an estimated cost, which can be  settled between   you and your fellow riders using PayPal.
And, oh yes, there is a rating system so that the proverbial annoying passenger is less likely to be matched up.
Related articles by Zemanta