I was able to catch most of the Startup Weekend NYC closing presentations, which were held this year at New York University's Courant Institute. It was my first time as an attendee, and though I'm sorry I missed Mantrophy's pitch, after about ten or so presentations, I definitely got a feel for the energy, industry, and the sheer fun of hatching a business.
If the rest of the events of Internet Week NY could be considered watching the early careers of startups, Startup Weekend NYC was a front row seat to witnessing the first big break for a future Foursquare or Etsy— American Idol for the tech set.
The whirlwind began on Friday evening when developers, marketers, designers, and business managers paired up to launch their plans. By Sunday, there were software mock-ups, sales projection spreadsheets, marketing roadmaps, and elevator pitches. Considering the limited time, the final PowerPoints and closing remarks were compelling enough, I believe, for most of these startups to continue with their efforts.
There were a few I liked.
SpareKeyPlease
It's a simple proposition: you are on the move, leaving an apartment vacant for a day or two or longer, so why not announce this to your trusted social network?  The contra-party to this deal is another friend (or friend of friend) who is traveling for business or fun to your hometown, needs a place to stay, and doesn't want to spend money and time in a sterile Holiday Inn room overlooking the expressway.
SpareKeyPlease steps in and acts as your broker, putting together hotel-allergic friends with empty bedrooms. The mechanics of getting  friend and bed together is handled by the SpareKeyPlease platform, which scans Facebook, Tripit, Foursquare, and Twitter feeds to learn about travel plans and dates in your peer network.  The service is really a feed aggregator and scheduler, displaying a dashboard with maps and calendars so both parties can work out arrangements.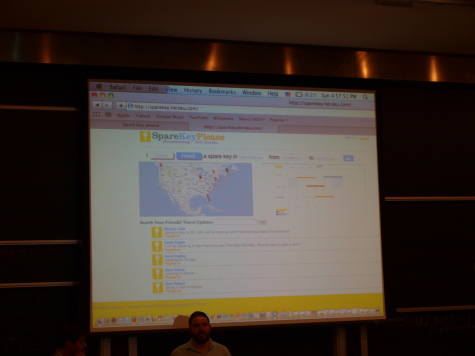 It's not just a Web-centric platform; this group made a point to say they are willing to have SpareKeyPlease apps and widgets on Facebook or iPhone.
It makes perfect sense—friends housesitting for friends—and the market has already tested the idea of sharing travel information through sites like TripIt. On the other hand, it does face competition from those very same players.
Its unique value props are two-fold: this service doesn't play favorites, pulling in shareable information from all the travel sites,  and no one else, according to their market research, is acting as a go-between in putting together empty beds with in-town friends.
So how do they make money (HDTMM)? It gets a little fuzzy for me, but the founders say that  the money saved by not staying at a hotel (they calculate average per room rates are around $98/night) could be spent at local businesses: for example, take-out food at local restaurants, Domino's Pizza, etc.  In other words, put coupons into the hands of housesitters and charge the local businesses for that right.
Though you have to wonder that if someone is not willing to spring for a hotel room, their cash flow is likely limited, and they would just as soon purchase crackers and cheese at a 7-11. But I suppose you could sell coupons for that as well!
I'm still intrigued and hope their story continues.
CoWander
Somewhat related to SpareKeyPlease is CoWander, which banks on wanderlust and the urge for some to act as cultural ambassadors for their countries. The assumption here is that, unlike SpareKeyPlease, the international traveler does have a place to stay, and is instead looking for  dedicated, non-professional travel guides to show off their towns. CoWander acts as the on-line broker by matching interests and preference—e.g., I'm interested in finding a CoWander ambassador who knows the vegetarian restaurants of Buenos Aires.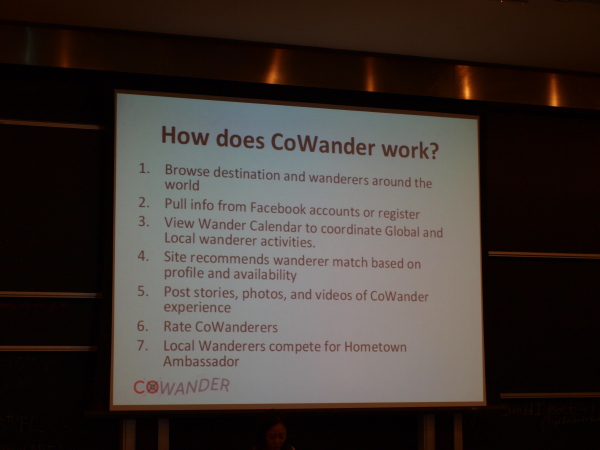 So what's the incentive for the CoWander ambassadors to offer their services? As with much of web economics, it's axiomatic that there are folks (non-professionals) willing to act as boosters for their cities and countries.  There are also game mechanics sprinkled into the site to further encourage involvement.
HDTMM? A premium content offering in which CoWander takes a commission for matching subscribers with a professional travel guide.
I've been away on business trips in Europe where, in my limited spare time, I wanted a guide to share his/her enthusiasm for the history and sites of the city, rather than sitting on a two-tier bus listening to a pre-recorded travel guide. I really could have used a service like CoWander.
If they can somehow get enthusiastic, knowledgeable ambassadors, and find off-beat professional guides, they may be able to build up a brand. Bon chance!
SoundSpot
The proposition is simple: associate audio with a geo location. It's geocaching with an audio treasure as the prize. It's friends leaving friends messages—"the tapas is excellent at this cafe"—and there's aspects of serendipity and game mechanics at play as well.  They also plan to partner with cultural institutions to extend their audio content to more conventional, shareable information.
As with CoWander, SoundSpot is marketing to those want to know more about a place, a town, or a cultural landmark.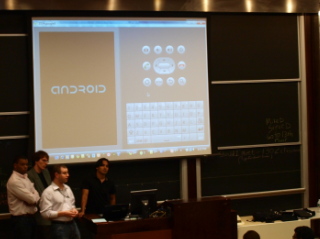 My take is that it's  intended for  do-it-your-selfers who may initially need, say, a CoWander ambassador to get their sea legs, and then would like to explore on their own with help from the SoundSpot audio content.
Hey, CoWander and LeaveSpareKey, maybe you can work out some cross marketing program with SoundSpot?
The SoundSpot gang picked Android as their initial gadget on which to deploy, mostly because of its open software environment. You begin to feel the sway of Google's mobile initiatives on mobile developers and why they're rapidly gaining ground. (Yes, the developer did say they will move on to iPhone next).
HDTMM? By selling audio to local businesses who'll give discounts to subscribers.
Besides these three, here's a shout-out to ProphetMargin, a small business dashboard based on Quicken APIs, and Data Dough, a broker for those who want to sell their private data to advertisers. (Note to Data Dough presenter: check out the new FTC guidelines on endorsements using social media!)
That's it for me. Hope they do another Startup Weekend NYC in the near future.