An internet pundit wrote a much linked to piece of punditry about how complexity overwhelmed the administrative powers of a few past civilizations, thereby leading to their eventual demise. Last night at a NY Tech Meetup I was feeling incredibly optimistic about the prospects of our own  society.
What's one of the most vexing problem faced by many Manhattanites? Finding a cab would probably come in pretty close to the top—finding a cab in the rain, a little higher.
So I was starry eyed at a demo of a new iPhone app (which has received media attention recently) called CabSense.
Using GPS data collected by the  New York City Taxi and Limousine Commission, AI-machine learning researchers were able to discern patterns in what I  always thought was a random walk.  The result was a mobile  app  that taps into this dataset  and reports back a nearby street corner where you are likeliest to get a cab.
CabsSense (brought to you by start-up Sense Networks) was one of several demos I witnessed last night that in my mind were all connected by a deeper theme.
Feeling helpless in the face of random NYC taxi behavior or amidst a sea of web content? We now have a chance to gain some control with a new wave of apps that are coming on the scene.  The ones I saw at the Meetup were all working with massive amounts of publicly available behavioral and preference data, smoothing it out, and then deriving something close to an answer.
Looking to hang-out with like-minded friends? There's hangalong. It's simple: broadcast what you're doing (requires a Facebook fconnect), and then you arrange to rendezvous  with those who register an interest.  Hangalong  automatically tags posts, so it's  also easy to quickly find friends with your tastes in hang-out spots.
Hacked out at a NYC hackathon by three  Columbia University students, dropioke (rhymes with karaoke) lets you learn the current musical interests of the crowd. It monitors Twitter, searching for posts that point back  to the dropio musical sharing service. It's a straightforward implementation, but it shows what the power of the crowd, lots of CPUs, and a few APIs can do.
Taking this idea a little further is a start-up called Parse.ly.  You enter your preferences and interests, and it filters and scrubs content (from blogs, web sites, social media) to find something that should appeal.  It's the same general  approach to collaborative filtering that Amazon and Netflix employ, but in this case applied to a broader context than just books and movies.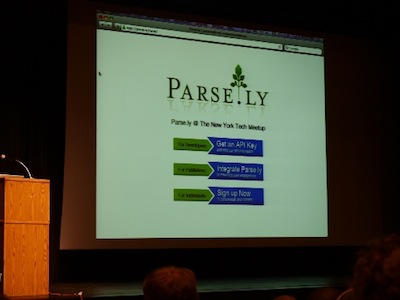 Parse.ly has  short-cutted some of the discovery process by asking preference up front—technically this is "active filtering"—so I'm assuming they won't need the level of computing  that Netflix consumes with their movie recommendations. This start-up is still in beta, and as soon as they approve my request, I'll let you know how the algorithms perform.
I think much of the evening's motif was summarized beautifully by Anil Dash–yes, the Six Apart  guy.  I'll try to post a transcript of his amazingly inspirational and practical (!)  presentation.
To  summarize, while our society will be tested in the coming years,  crowd and expert sourcing technology is a powerful tool to bring new voices into our policy making apparatus.
Here's the practical part of Dash's remarks: President Obama has issued a request to learn from all Americans what we think are the Grand Challenges of the 21st Century. We the public have a chance to get heard (along with the usual policy setters).
Submit your response electronically to challenge@ostp.gov by April 15.
Related articles by Zemanta